#AtHomeWithSpatial: Monique, the inspiration hoarder
At Spatial, we're more than a team of stylists. From interior designers, decorators and visual merchandisers to real estate agents, logistical administrators and marketing managers, our experience comes from a wide range of creative sectors.
It's these creative experts that make the team so valuable. Meet Monique, our Head Interior Designer and one of the creative brains behind Spatial.
A lifelong passion for design led Monique to complete a Bachelor of Interior and Spatial Design at UTS in 2016.
She believes that creating 'moments' within each space of a property, with unique pieces of furniture, is the key to a perfectly designed home.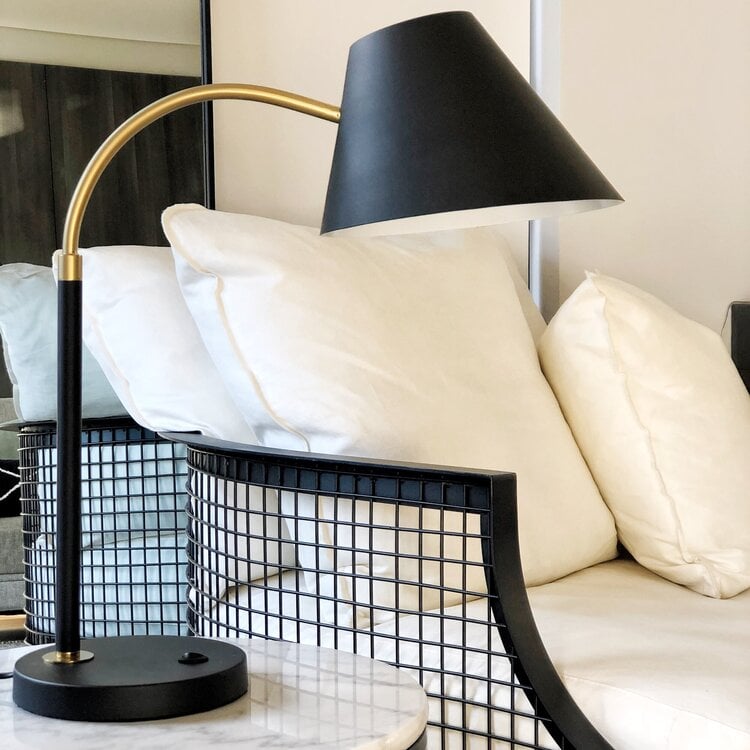 Monique creates a moment in the corner of her room with her favourite MCM House chair.
When it comes to the styling of her own home, Monique is constantly re-assessing and looking at ways she can improve or add to it. As a creative, it's essential that Monique's home keeps her feeling inspired and happy.
How do you use your own home as inspiration?
MONIQUE: I love layering decor and adding new pieces to my house as I collect them. Whether it's a new coffee table book, throw for my bed or artwork (I've actually just spent my weekend sourcing some indoor plants and a piece of art for my dining area). I find that refreshing these small things from time to time keeps the home interesting and keeps me inspired.
Above all of that, a couple simple things that keep me feeling good and happy in my home is ensuring things are organised, tidy and uncluttered - I can't function in a messy environment! I love natural light and am really lucky that my house gets a lot of it, so keeping the blinds and windows open instantly makes the house feel warm and inviting.
As a self-confessed inspiration hoarder, Monique finds herself regularly scrolling through Pinterest, Instagram and other designers portfolios such as Tasmin Johnson, for creative ideas.
Art is an escape from reality for Monique, especially during recent times and the increasing amount of time we are spending at home.
How do you use art as a creative outlet and what have you been spending your time at home on?
MONIQUE: I used to love painting and drawing growing up and have only just got back into it recently since spending more time at home. I love that art is experimental and you can be quite free and playful with it. To me it's a super relaxing way to be creative!
With more time at home I've been doing lots of cooking, lots of eating haha! I'm taking advantage of this slower pace and just enjoying the extra time with my family.
Monique's own style consists of using monochrome colours and key furniture pieces to keep her home versatile and create a space that is easy to update when she becomes bored or new trends emerge.
Take us through your home, how you went about styling it?
MONIQUE: The natural coloured timber flooring throughout the house was a really nice base to work with, which led me to use some black, white, marble and a little more timber.
I love to create little "moments" within each space featuring a special piece. We didn't have a huge budget for furniture but spending a little extra on a couple of hero pieces really brought it all together. For example our armchair from MCM House that sits in a corner of the living room and the vintage stone buffet I found on En Gold in my bedroom. These would definitely have to be my favourite pieces.
Monique's broad range of skills allow her to be across many aspects of the business but her primary role is looking after our interior design clients, working on residential, commercial and hospitality projects.
What projects are you currently working on?
MONIQUE: One of the most exciting projects I have going on at the moment is a renovation of a family home in Maroubra. What started out as a consultation for a kitchen and bathroom facelift to prepare the property for sale, turned into a complete renovation and creating a forever home for the client.