Why use a bedhead when styling your property for sale?
When you are putting your home on the market, it's essential to put the best foot forward. The bedroom is a room in the home where we spend a large amount of time. Creating a feeling of comfort, warmth and calm is key to draw in potential buyers and help them to picture themselves in the property right from their very first inspection.
It's no secret that a professionally styled home increases buyer interest, helping to sell your property faster, and for a higher price. Buying a home is a highly emotional decision - the buyer needs to feel like all their boxes are being ticked. Professionally styling helps tick those boxes, helping them visualise the aspirational lifestyle they will lead when they buy your property.
Styling a bedroom for sale is an important piece of the puzzle, but it doesn't need to be complicated as we explain.
Originally, bed heads served a purely functional purpose - they were used as a barrier between the cold wall keeping you warmer during the night. They also kept pillows from falling off the bed during the night. Using a bedhead for aesthetics has risen in popularity of late, with more and more people searching for the perfect way to reflect their style.
Full focus
A bedhead adds a key focal point to the room, it helps to draw the eye to the most important feature of the space - the bed. By using a statement piece it immediately informs the style and palette of the room all with one considered item.
It also helps to provide a neutral base and sets the tone for the rest of the styling, quickly changing a bland room to feel more pulled together and luxurious. The right bedhead adds a wow factor to your property's professional photography, boosting its online presence on the market.
Size matters
Used strategically, bedheads can make a room appear larger, as they make use of the vertical space above the bed and make rooms with regular or lower ceilings appear loftier.
Make it memorable
A great bedhead acts as a memorable standout piece in the buyer's mind. It helps to put your property at the top of the list of the no doubt countless properties they have visited during the long process of finding their perfect home.
Spatial styles bedheads
Here at Spatial Property Styling, we are dedicated to increasing the value of every property that we style. Our team of experienced stylists don't take a cookie-cutter approach to styling. We approach each home as an individual - with its own amazing features and quirks. We want people to walk into your property and immediately picture themselves and the life they would lead if it were theirs.
Take a peek at some of the recent bedrooms that we have styled with our bedhead collection.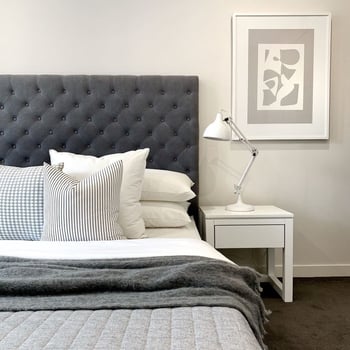 For more detailed and bespoke advice on how to style your home for sale, contact one of our Senior Stylists on 9417 7193.