Spending an increasing amount of time at home? Reflect & Rearrange
Spending an increasing amount of time at home and feeling antsy? With millions of people around the world adjusting to life in lockdown, now's the perfect time to play around with existing elements in your home to create a new mood, look and feel.
This little side project could be as simple as rearranging your lounge room or culling your closet. If you're isolating and looking for some ideas on how to revamp your home, we've got you covered.
Add a splash of paint
Never underestimate the power of a fresh coat of paint. Whether you need your space to feel more open, more invigorating or more soothing, all of these things can be accomplished with just a simple coat of paint.
Set up your home office
Now is the ideal time to perfect your home office or study area. You want to create an inspiring area that you enjoy sitting down in everyday, so make sure you're styling it appropriately. Use artwork to inspire creativity, these could be your own or your children's drawings.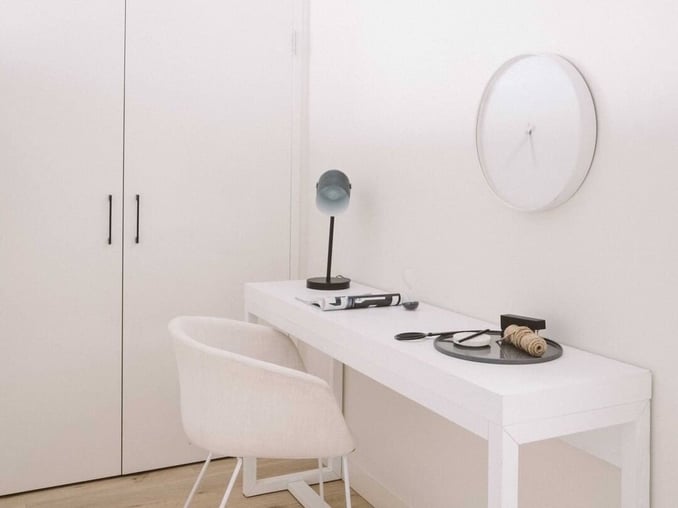 Rearrange
Finding yourself growing increasingly bored of looking at the same lounge room day in and day out? Try flipping your furniture around and focusing on certain elements within the space. Sometimes focal points appear naturally such as prominent windows and fireplace mantels, other times you may need to create them yourself. Choose a main piece of furniture and arrange your other pieces of furniture around it.
Upcycle
Instead of spending cash on new items or furniture or decorative pieces, try revamping existing items with high gloss paints or different colours. Try experimenting with bright, bold colours and alternative handles to create unique pieces.
Clear clutter
Eliminate the chaotic corners in your property and clear the clutter by implementing space-saving designs. Now is the time to be brutal, if you haven't used an item or appreciated a decorative piece for more than 6 months, get rid of it. Take the time to declutter the most visible places in your home over the next few weeks – the living room shelves, your kitchen countertops, your bookcase.
Get Creative
Collate your favourite photographs, postcards or artwork and add them to a mix of frames. Then, choose a blank wall space to create a playful gallery wall. Think about parallel placement and straight lines, use your creative side to come up with an aesthetically pleasing layout.
Feeling stuck with ideas on how you can transform the space you currently have? Spatial offers virtual consultations and walk-throughs to help you re-design and organise your property.